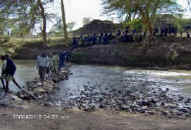 The Segera Mission clinic serves as the only medical facility in a 30 km (18.6 miles) radius.

To get to the Segera Mission Clinic, people from Endana must either wade across the Ewaso Ng'iro River, or cross over on makeshift bridges made from felled trees.

During the rainy season the community is disconnected from the Segera Mission Clinic for at least two months in a year. The rise in the river's water levels makes it impossible to cross it, and the lack of motorized transportation makes accessing alternative routes difficult.

The People of Endana must then walk 30 km round-trip to get medical care at the Segera Mission Clinic and as a result, they do not seek medical care until their condition is life threatening.